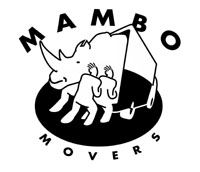 ---
TRUCK

The Mambo Truck you see is a moving van with a lift gate and a box, big enough for most household moves. It is white colored and has an appropriate sign on a side, designed by Alex Kanevsky Studios. The moving van is a bit wider than a car, it's also considerably taller. So we ask you to take a realistic look at your street before the move. Some streets are narrow - we know it, and some overpasses have a disappointingly low clearance, we know it too. There are plenty of ways to avoid scratching someone's parked Lamborghini while trying to squeeze a huge truck into a narrow street. We have smaller trucks for these occasions. Let's plan in advance!
We also ask you to take a realistic look at the volume of things you are planning to move. The huge 26' truck is the biggest we can legally operate. Some households, however, are even bigger than that. There are several ways to approach this situation, the most common of them is making a second trip. (215) 670-9535 is the number to call if you have questions about planning your move.

---
EQUIPMENT

Mambo Movers are concerned about the safety of your furniture. That's why we have tons of blankets to wrap the furniture and moving straps to strap it to the wall of the truck to prevent shifting. When the truck is backing up, it produces the purest B flat and Si bémol simultaneously - as a warning signal for the passers by of every possible kind of cultural background! We have dollies and hand trucks. We also have tools to take apart and reassemble the most stubborn pieces of furniture. And of course we offer all kinds of packing materials and boxes. But of course! Call (215) 670-9535 and we will tell you all about the famous Orange Strap.
The piano moving equipment is not among our assortment, however, that's why we do not move pianos. Yes, there are several other reasons for that, insurance being the dominant factor. On the shinier side - we will proudly move your harpsichord!

---
PRICES
Mambo Movers charge by the hour with a two hour minimum. If the move is more than two hours, we pro-rate, it means if the job took us 3 hours and 20 minutes, we'll charge for 3 hours and 20 minutes. We are not rounding to the next hour.


We DO accept as a form of payment:

Cash;
Certified check;
Money order.

We DO NOT accept as a form of payment:

Personal check;
Credit card.


Our rates are very reasonable, they depend on a floor you are moving from and to: the lower a floor, the less money we charge.
We have discounts for the Non-Profit Organizations and to The Philadelphia Orchestra, undoubtedly the greatest in the world.
Please call Mambo at (215) 670-9535 to inquire about our rates and forms of payment.
In the light of recent world events and the resulted drastic changes in oil prices, regretfully we are forced to reitroduce the fuel surcharges. Hopefully not for long.
P.S. The cases when Mambo Movers refuse tips for the job well done are extremely rare.

---
PROCEDURE

On the day of the move the Three Strapping Lads arrive to your place. They smile, introduce themselves, shake hands and begin a tour of your place. Please be precise about the furniture you are taking or leaving behind, it is important for the truck packer. An accidentally forgotten basement full of stuff, discovered after loading the truck, is one of movers' worst nightmares. You can trust the Mambo guys to pack the truck, they know exactly what to do. Who knows, maybe years of experience in playing Tetris finally produced this result. After loading we discuss the directions to your new place and start moving. Unloading is the reverse process of loading, with the exception that you know where everything is going and we don't. Please tell your movers the exact location of every piece.
After everything is unloaded, Mambo Movers will present you with a bill and drive away to continue their life. There are a lot of details to discuss, so if you are interested please call (215) 670-9535 and ask any questions.

---
TRAVEL TIME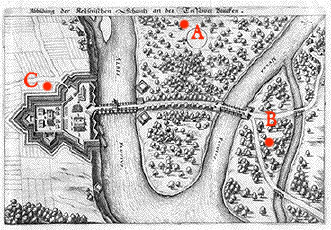 The travel time is the total time it takes for Mambo Movers to reach your site from their office in South Philadelphia, and to go back to the office after the move is done. Please take a look at a nice little chart above: A = Mambo Office in South Philadelphia; B = your current place and C = your new place. From A to B and C to A = travel time, flat rate charge. From B to C = actual move, charge by the hour. There is no travel time if you are in the Center City. The number to call about the specifics of your travel time is (215) 670-9535.

---
PACKING
Mambo Movers expect you to be prepared for your move. Packing is a big part of it. You'll need some cardboard boxes, plastic bags, tape and markers. Please use small boxes for the heaviest things such as books, CDs and your favorite 8-tracks and medium sized boxes for un-hung clothes, toys, linens, etc. In general, try not to overstuff the boxes; they can break if they are too heavy. It is very important to close and tape the lid and the bottom of the box. Please mark the box if it contains anything fragile. We ask you to empty any dresser drawers and put the contents in plastic bags. Pack mirrors, paintings and framed pictures if you like or you can leave them as they are - we'll take good care of them. With clothing on hangers you have two options: you can use wardrobe boxes (which are ideal, even though they are expensive and can take up a lot of truck space), or you can tie together 5 or 6 hangers with clothes on them and put a plastic bag on top. Either method will do.
Please note, that we can not guarantee the safety of the items packed improperly. The flat screen TVs, for instance, need to be packed into the original boxes to insure the 100% safety. If you don't have the original packaging, please use a lot of bubble wrap. A lot!
Good luck with your packing, don't forget that it sometimes takes more time than you expected.
If you are not in a mood of packing, we can do it for you: we provide boxes, all kinds of packing materials and of course a crew of experienced packers. You can trust them, they know what are they doing!
For more packing tips and arrangements please call (215) 670-9535.

---
MOOD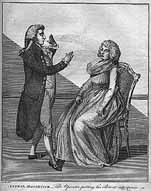 Moving your earthly possessions from one place to another is by no means very serious event. It can be easy and game-like. Or it can be very frustrating. It depends entirely upon you and your look at the future event. It is simple. If you expect all the disasters of the world to happen it makes you tense and irritable. The energy of your tension spreads and sooner or later will affect your movers, the very people who are responsible for the quality of the process. It is not good. Try to relax and trust the Mambo Guys. They are very experienced people and know exactly what are they doing. They are on your side and to help you is their job, besides simple human sympathy. Mutual respect and understanding is the best way to approach anything including such a big thing as moving your entire earthly possessions from one place to another!
Please call (215) 670-9535 about anything related to your move.

---
WEATHER
Usually rain or snow is not a huge obstacle for the Mambo Guys. Instead of trying to change the weather (which is not always an easy task) they just continue to do their job. We know that water of the sky can damage your belongings, that's why we use all kinds of precautions: we cover every piece of furniture with blankets when taking it out of the house and put some covers on your brand new floors. If it rains too hard we can wait it through or even postpone the move for later that day. In the unlikely event of tornado we would recommend rescheduling your move to another day. If you see a forecast critically different from the classic July morning, please call (215) 670-9535 and we'll find a solution.

---
REFERENCES

Mambo Movers maintain a sporadic list of references. We never ask our customers to contribute their names to the List. People who have experienced the wonder of being moved by Mambo, send us letters and actually offer their names to the List and/or they call and leave grateful messages. That's the core of our references. Mambo is very happy to have quite a lot of people and organizations who will be glad to refer us to you. If you already asked your friends and relatives about Mambo and still need some other references, please call (215) 670-9535 or take a look at our List of References.

---
LONG DISTANCE MOVES

Mambo is based in Philadelphia, PA but of course can go far beyond the limits of the city. New York and Washington, D.C. are considered semi-long distance moves, because they take just one day to complete. Boston takes two days, Chicago - three and so on. We go as far as California and Washington State. The Mambo trucks never go to New Zealand, however, because of Kermadec Trench on the Pacific Ocean floor with it's notoriously bad roads.
Please call us at (215) 670-9535 to discuss the options of your long distance move.

---
HOISTING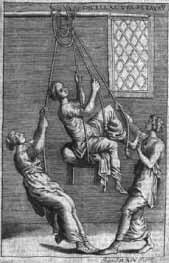 Philadelphia is a very old city, one of the oldest in the United States. It was built when people didn't need huge armoires on the top floor. Now it's a different story. Since huge armoires and tiny spiral staircases somehow don't match, the solution is hoisting. Mambo Movers have all the necessary equipment for that and are quite expert in the field. There is no additional charge for hoisting. We can bring your furniture up through the window or to the upper floor deck with a sliding door, if you have one. Some furniture is too big for the window though, so please measure your windows before the move. In some cases, however, hoisting is unsafe so please respect the movers decision not to hoist this particular piece of furniture to avoid injuries.
For the details call us at (215) 670-9535.

---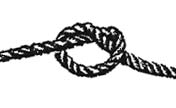 PRIVACY
And of course - the privacy of the customer is a corner stone of Mambo's approach to absolutely every job they do. "What you see here and what you hear here - stays here." Period.

---
AFTERNOON MOVE
Usually Mambo crew performs two jobs a day - one in the morning and one in the afternoon. Our morning move starts at around 9AM and ends when the very last piece of furniture is unloaded into the new place. When exactly will it happen is extremely hard to predict. Mambo Movers try to make every move as quick as possible and are known for their speed. However, there are many surprise factors which could speed up or delay the process, even if we know the volume of the material in advance: the width of the staircase, for example; the traffic situation; the emotional state of the customer; even the emotional state of the customer's cat, et cetera, et cetera.
Since we can not start the second job before we finish the first and we do not know when exactly will it happen - we can not tell the exact time of the second one. Rarely it happens before noon or after five, however. You should know that the crew always keeps in touch with the customer and calls when the time of arrival is clear.
The best thing to do here is to be patient and open minded, you should know that the Mambo guys are doing everything they can to be at your place as early, as fresh and as cheerful as possible!
Please call our office at 215-670-9535 if you have any questions about our afternoon policies.

---
CANCELLATION
If by any reason you need to cancel or reschedule your move, we require a ten working days notice prior to the date of your move to avoid a 2 hour minimum charge.
Sometimes, when you book your move, the date is unclear - in this case we can schedule you tentatively. It means, if someone else will inquire about the same date, we'll try to contact you immediately to ask about the status of your arrangement. If we can not reach you by phone and you are not confirming your tentative date 10 working days prior to it, we book someone else's move on that date.
To confirm the date of your move or to ask all the questions about the particulars of our cancellation policies, please call (215) 670-9535

---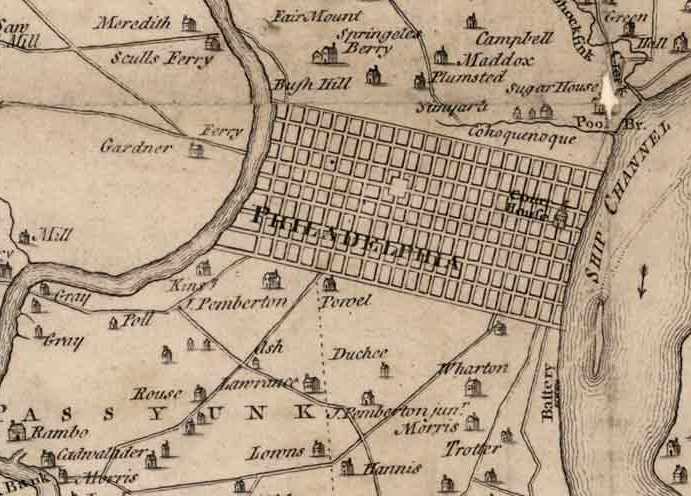 CONTACT
Recently Mambo moved its headquarters ("mover move thyself") to a new location in gorgeous South West Philly. The works of the most artistically inclined Mambo Guys are widely displayed here. Stop by one day and take a look.

To contact us you can:

call us at: (215) 670-9535,
fax us at: (215) 271-5433,
or send us e-mail.



---