Baader miniature pinscher

Born: 3.16.03
Height: 11 inches
Length: 11.5 inches
Weight: about the same as an average laptop computer

Favorite activities:

1. Hanging with the Mambo Guys;
2. Road trips;
3. Hunting pigeons, squirrels, bugs;
4. Archaeological digs;
5. Chasing bitches.

Baader is slowly becoming a Mambo veteran having done jobs to Lansing, MI, Cleveland, OH, and Fishtown.

P.S. If you accidentally forgot the meaning of the word 'happiness', watch Baader rushing towards Pete.
Canoeing with Pete
.Nova Scotia, Canada
.........Checking out the mine fires
..........Centralia, PA
10 weeks old
..Philadelphia, PA
..........Cheezborger, Cheezborger !
...........Cherry Hill, NJ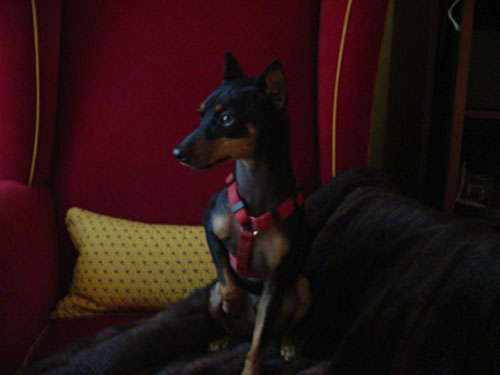 Living large in Cambridge, MA